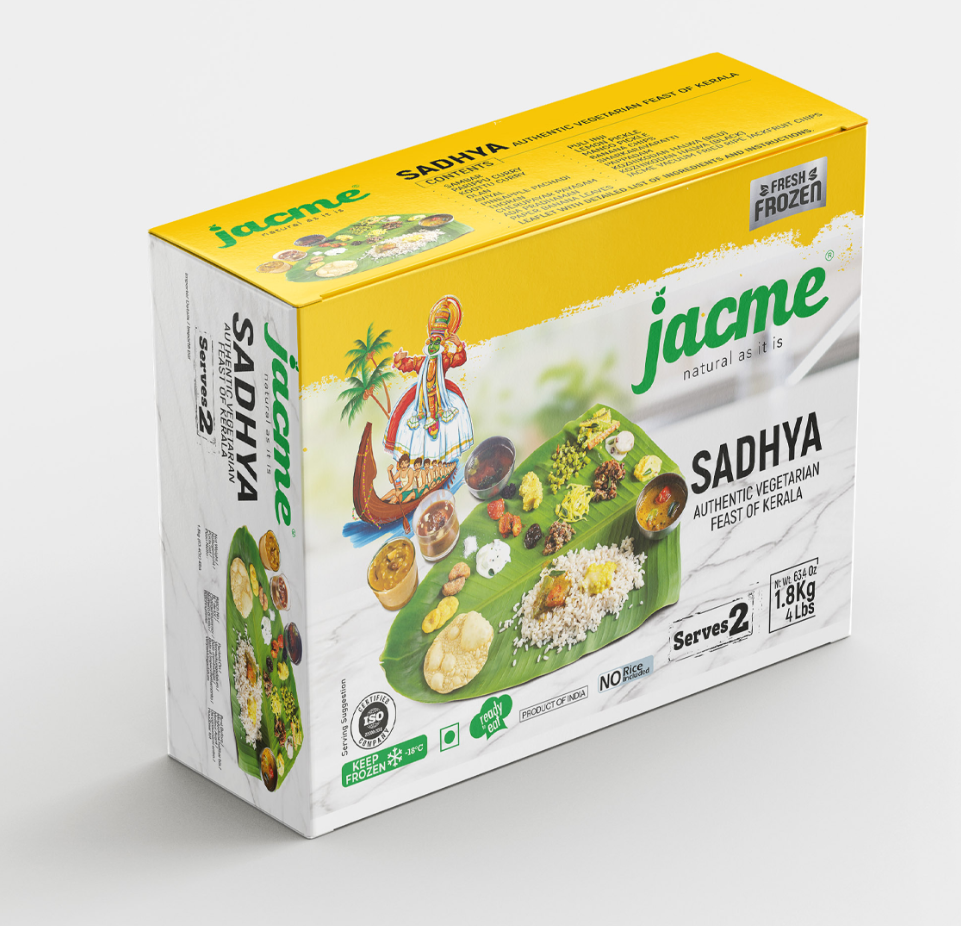 Jacme
Sadhya Serves 2
Jacme's Sadhya is a traditional Kerala vegetarian feast. The Onam Sadhya package includes Paper Banana Leaves for use as plates in traditional fashion. The taste of each of these dishes will exceed your expectations and we are sure you will return for more. These delicious ready-to-eat frozen items are perfect for Onam or any other special occasion.
Package Contains: SAMBAR, PARIPPU CURRY, AVIYAL, KOOTTU CUURRY, OLAN, PINEAPPLE PACHADI, MIXED VEGETABLES THORAN, INJIPULI, CHERUPAYAR PAYASAM, ADA PRADHAMAN, MANGO PICKLE, LEMON PICKLE, BANANA CHIPS, SHARKARAVARATTI, PAPPADAM, KOZHIKODAN HALWA (RED&BLACK), JACME VACUUM FRIED JACKFRUIT CHIPS, PAPPER BANANA LEAFE
1. MICROWAVE
Sambar,Parippu curry,Aviyal,Koottu curry,Olan,Pineapple Pachadi,Mixed vegetables thoran,Ada pradhaman,Cherupayar payasam

Remove the polythene from the container and heat on high for two minutes.Stir the product and heat for additional two minutes. FOR BEST RESULTS,thaw the product to room temperature before heating.Note that the heating time varies when thawed . Please do not overheat as it will result in the loss of freshness of the product.Do not Refreeze

Kozhikoden Halwa

emove the products from the package,thaw to room temperature and heat in the microwave for 1 minute before serving
2. Banana chips,sharkaravaratti,Pickles,injipuli,abd jacme vacuum fried jackfruit chips: Thaw the products to room temperature and serve
3. Pappadam : Heat oil in a frying pan.Fry each pappadam for 2-3 seconds on one side and then 2-3 seconds on the other.serve immediately or store in an airtight container.
SAMBAR : Lentil slow cooked with vegetables and a special blend of spices
PARIPPU CURRY : Moong dal curry prepared with coconut and spices
AVIYAL: Mixed vegetables cooked with grated coconut and a blend of spices
KOOTTU CURRY: Thick stew made with black chickpeas, plantain, yam and coconut paste
OLAN: A subtle -flavoured dish cooked with ash gourd, cowpeas and coconut milk
PINEAPPLE PACHADI: A delicious dish made with pineapples, coconut mustard seeds
MIXED VEGETABLE THORAN: A dish prepared with mixed vegetables and grated coconut
CHERUPAYAR PAYASAM: Dessert made with split green gram, coconut milk and jaggery
ADA PRADHAMAN: Dessert made with rice ada, coconut milk and jaggery
MANGO PICKLE: Finely chopped raw mango pickled with spices
LEMON PICKLE: Chopped lemon pickled with spices
INJIPULI: Spicy, sweet and tangy pickle prepared with ginger
BANANA CHIPS: Deep -fried plantain chips
SHARKARAVARATTI: Deep-fried banana chips coated with jaggery and dried ginger
PAPPADAM: Fryums
KOZHIKODAN HALWA : (RED) Dessert flavoured with fruits, nuts and spices
VACUUM FRIED JACKFRUIT CHIPS: Vacuum cooked 100% real jackfruit snack